When talking with clients, we always ask them, "What are your goals for marketing?"  All too often, the responses we get are along the lines of "to sell more" or "to increase leads."  While that might be a starting point for your marketing objectives, that's like vaguely saying "I'm heading that way" when someone asks, "Where are you going?"  Technically you answered the question, but how will you know when you've arrived at your destination? Similarly, your marketing goals need to be specific and measurable so that you can clearly identify when you've achieved them or when you've missed the mark.
To create a realistic and effective marketing strategy, it's best to start by clearly identifying your marketing goals and then determining the marketing strategies that are best suited for your industry, your business, and your goals.  Writing concise goals with quantifiable figures is essential, whether it's for personal goals or marketing goals.  To get started, we recommend using the S.M.A.R.T.E.R. method of goal setting.
We suggest developing S.M.A.R.T.E.R. marketing goals that are:
Specific
Your marketing goals should be clear and specific. The entire team needs to understand the objective itself and why it's important for the overall business.
Measurable
Your goals should be measurable so that you can track progress.  By identifying key performance indicators (KPIs) and benchmarks for your marketing objectives, you can clearly track your progress towards your goal.
Achievable
Your marketing goals should be realistic and achievable and within the ability of your budget, company, and team.  Making a marketing goal of doubling your revenue within a year might technically be possible, but does your business have the marketing means or financial resources needed to achieve such a lofty goal?  You should set the bar high but remember to keep your objectives reasonably aligned with the level of resources available to your marketing team.
Relevant
Your goals should be relevant to what you are trying to achieve.  Your marketing objective(s) should be relevant to your company's brand mission and contribute to achieving a specific company goal.
Time-Bound
Your marketing goals should have a clear timeline that indicates a target starting date and deadline.
Evaluated
Evaluate the progress you've made on your marketing goals regularly.  By checking the progress of your marketing objectives at regular intervals, you can adjust your marketing efforts to help get back on track or to take advantage of the opportunity to surpass the goal.
Reviewed/Readjusted
Based on your evaluations, consider a different approach to reach your goals.  Reflect on which efforts were the most successful during the time frame you set for your goal and focus on those strategies moving forward.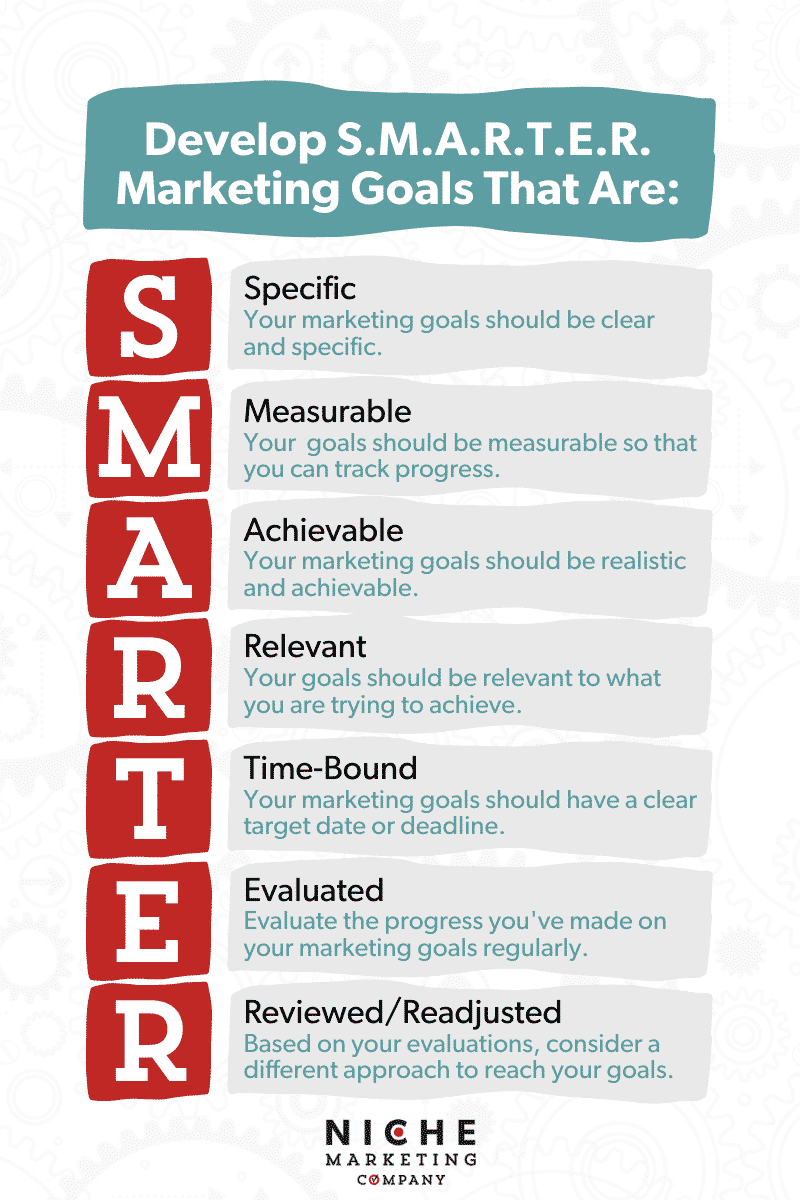 Backward Planning
Once you have developed your S.M.A.R.T.E.R. marketing goals, it's time to figure out how to achieve them.  We like to use a process of backward planning: identifying the endpoint (the marketing goal or objective) first and then focusing on the starting points (recognizing the best strategies to achieve that goal.)
For example:
Step 1:
You would work with your marketing team to develop a S.M.A.R.T.E.R. marketing goal with a result of increasing engagement on your business Facebook page by 50% in six months.
Step 2:
Then your team would look at your Facebook Insights to determine your current engagement rate to establish a baseline.  Then they would look back through the data to see the impacts previous marketing efforts had on your engagement rate.
Step 3:
Once they have a pretty good idea of what's been tried, what works, and what doesn't, then they can apply their experience and knowledge of best practices to develop a strategy of branded content, engaging posts, paid advertising, and other social community interactions to help your business meet its marketing objectives.
Step 4:
Once your team has implemented the marketing strategies for a period of time, remember to routinely meet with your marketing team to review KPIs and benchmark data to evaluate the progress of the marketing efforts and make changes as needed based on the data.
Struggling with your marketing goals? Niche is here to help! Visit www.nichemarketingcompany.com or give us a call to schedule a website consultation: 443-787-4951
Looking for more information on how to create S.M.A.R.T.E.R. goals?  Check out these resources.