You've done your research, you've reached out and met with agencies and designers, you've found the perfect web designer for your new website, and you've signed on the line. Way to go!  Now what?
Finding a great web designer for your project is the easy part, getting your project started in the right direction can be a bit more of a challenge. Knowing how to help your team work effectively with your web designer and their team is the key to getting the outcome you're looking for within the budget and timeline that works for you.
To help you and your team get the best results when working with a web designer, we've listed a few tips to help you with the process.
Goals Are Road Maps
Like most projects, the key is preparation. The agency or designer you choose should be able to help with the strategic and technical skills you need, but it isn't likely that they will know your business, or what your particular business goals are. You'll need to do some homework and think through your goals. The clearer you are about what you do, and what your primary goals are, the greater the chances you will accomplish them. Writing an executive overview that summarizes all of this in a concise way will help start the conversation moving in the right direction.
(Need help with creating your goals? Check out our blog!)
Every Picture Tells A Story
The next step is to think about the image you want to project and how it will align with your branding. What imagery do you have available? Is it quality photography, or do you have random images that were taken on phones with a range of different lighting and quality? You can use stock photography to supplement what you have, but you are likely to end up with a range of quality that doesn't reflect well.
If you need to hire a photographer there will be additional cost and planning needs to be done. You can use entirely stock photography, but that can lead to a very generic-looking site. Illustration is an opportunity as well, but just like photos, you'll need to decide between stock and custom. Again, being clear about the message you want to communicate will be the way to determine how to make the right image choices.
Functionality Matters
The last piece to think through carefully is functionality. Do you need a calculator, a slideshow, product gallery, forms? Each of these add time and effort to the project. Think through the information you need to collect, and what your ability is to follow up on it. Each of these elements take time to develop, and they need to be tested at each of the different responsive formats, desktop, tablet, and mobile. You may need different presentations at each view. The more you bring to the process, the more you'll get out of it.
Is Your Budget Realistic?
After you have specifics of your project thought out, you have to ask yourself if you have a realistic budget set aside. Asking for $10,000 worth of work you've budgeted $3000 for is a recipe for frustration all around. Either the money or the scope of effort will need to adjust. Along with budget, time is an issue. Have you planned far enough ahead to be able to have the website you want ready when you need it? Or, are you prepared to spend the additional money required to put additional resources to work? It's a lot to think about, but figuring it out at the start of the project is the only way to get the project outcomes you need and want.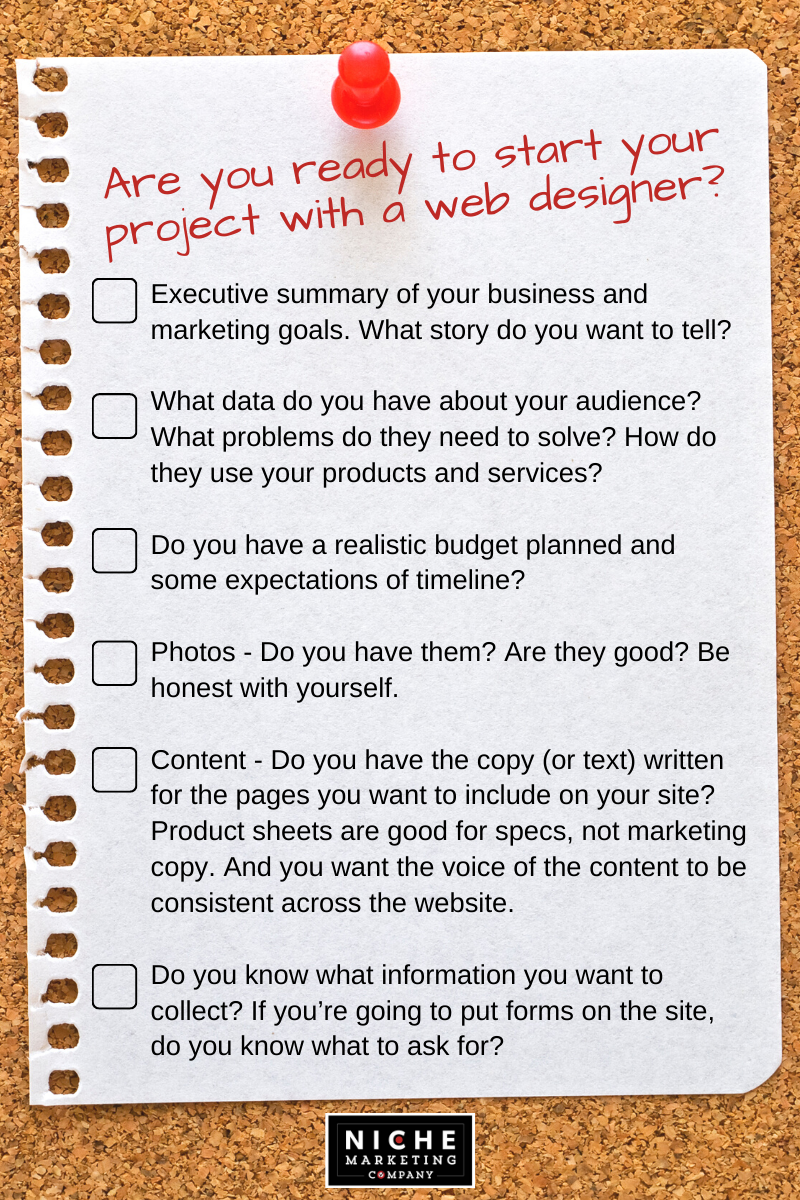 Are you ready to start your project with a web designer?  Here's a quick checklist.
Executive summary of your business and marketing goals. What story do you want to tell?
What data do you have about your audience? What problems do they need to solve? How do they use your products and services?
Do you have a realistic budget planned and some expectations of timeline?
Photos – Do you have them? Are they good? Be honest with yourself.
Content – Do you have the copy (or text) written for the pages you want to include on your site? Product sheets are good for specs, not marketing copy. And you want the voice of the content to be consistent across the website.
Do you know what information you want to collect? If you're going to put forms on the site, do you know what to ask for?
Struggling with finding to the best web designer for your project? Niche is here to help! Visit www.nichemarketingcompany.com or call us to schedule consultation, 443-787-4951.